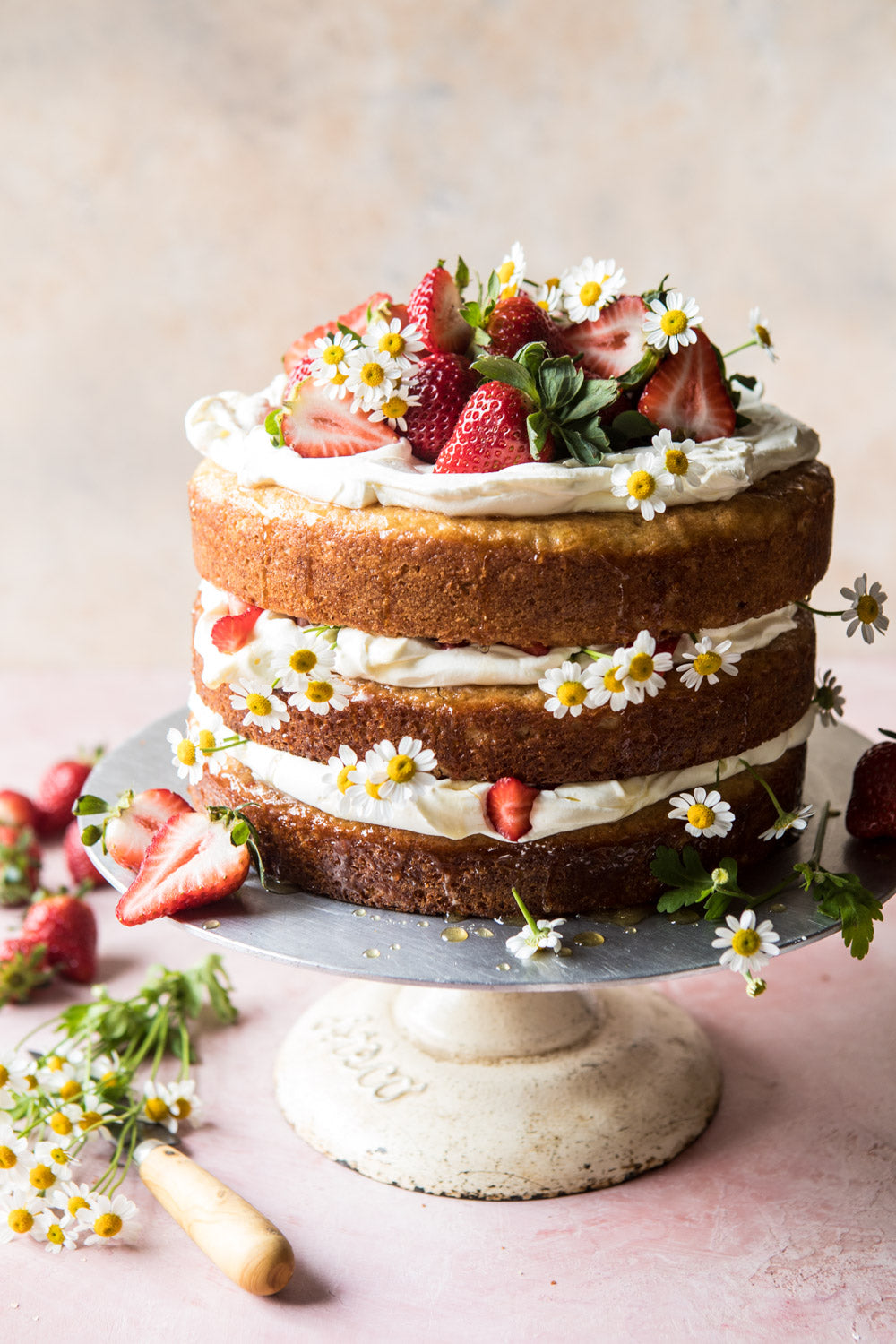 How to make strawberry chamomile tea cake
As most of you probably know, I am normally all about the chocolate desserts. Read, the more chocolate the better. See this cake for example. BUT that's not to say that I don't still love a good fruity dessert. Granted it took me a while to warm up to fruit based desserts, and I do still think of them as more of a brunch type of item than dessert, but regardless, I now love them.
With spring on its way,  I knew I needed to share this strawberry chamomile cake that I've literally been thinking about since December. I've said this before, but sometimes I get ideas in my head months and months before I actually create them. Sharing a strawberry cake in December really does not make sense, so I waited and waited and finally the time has come.
And guys? To be expected, I LOVE this cake.
For one, it's covered in chamomile flowers, which you all know I am obsessed with. Some people decorate with sprinkles, but then there's me, and flowers are the sprinkles in my life. I love them.
Two, and most importantly, this cake honestly is so DELICIOUS. It's light, springy, perfectly sweet, hinted with warm chamomile flavors, and studded with fresh springtime strawberries.
Basically, this cake is spring in cake form, and it is good! I also say this often, but you need this cake in your life. My grandpa said it was the best cake he's ever eaten!
INGREDIENTS
1

 

cup

 

canola oil

1/2

 

cup

 

plain greek yogurt

3

 

large

 

eggs

2

 

cups

 

granulated sugar

1

 

tablespoon

 

vanilla extract

1 1/2

 

cups

 

buttermilk

3 3/4

 

cups

 

all purpose flour

1

 

teaspoon

 

baking soda

1

 

teaspoon

 

baking powder

1

 

teaspoon

 

kosher salt

3/4

 

cup

 

high quality strawberry jam

2

 

cups

 

fresh strawberries, sliced

honey, for drizzling
CHAMOMILE CREAM
2

 

cups

 

heavy cream

1 oz chamomile tea

8

 

ounces

 

cream cheese

1/4

 

cup

 

powdered sugar.
INSTRUCTIONS
 1. Preheat oven to 350 degrees F. Grease three 8-inch round cake pans. Line with parchment paper, then butter/spray with cooking spray.
2. In the bowl of a stand mixer (or use a hand-held mixer) beat together the canola oil, yogurt, eggs, sugar, vanilla, and buttermilk. Add the flour, baking soda, baking powder, and salt and mix until just combined. Gently swirl in the strawberry jam, leaving large streaks and not fully incorporating the jam. 
3. Pour the batter among the 3 cake pans and bake 28-30 minutes, until the tops are just set and no longer wiggly in the center. Remove and let cool five minutes, then run a knife around the edges of the pan and turn the cakes out onto a cooling rack. Cover and let the cakes cool completely before assembling.
4. To make the chamomile cream. Add 1 cup cream to a small saucepan and bring to a simmer, but do not boil, simmer 1 minute and remove from the heat. Add the chamomile tea, cover and steep for 5-10 minutes. Remove the tea leaves and place the cream in the fridge to chill completely. Next, beat the cream cheese in a stand mixer until fluffy, add the chilled chamomile cream and remaining 1 cup cream and whip until stiff peaks form. Stir in the powdered sugar. Keep stored in the fridge.
5. To assemble, place one cake layer on a serving plate or cake stand and drizzle lightly with honey. Spread 1/3 of the chamomile cream over the cake and add a handful of fresh chopped strawberries. Repeat with the remaining 2 cake layers. Be careful not to over fill your layers with fruit or the cake will be hard to slice. Serve or store in the fridge for up to 1 day. If desired, decorate the cake with chamomile flowers.